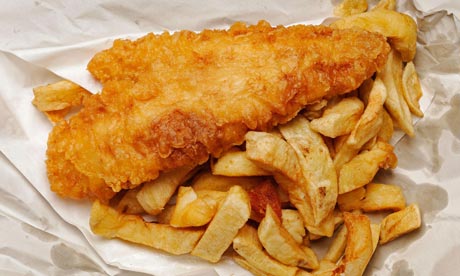 Important Ideas
English breakfast is very good too when you're so hungry!
Lunch or Dinner
Fish and chips are delicious with salt and vinegar
English Breakfast
A traditional English breakfast starts with fruit juice or cereals. Then you have eggs, bacon, sausages, tomatoes... You finish with toast and marmalade.
Afternoon Tea
Everybody likes tea in England at 4 p. m. with cakes and biscuits, scones, cream and jam only have afternoon tea away on holiday and special occasions.
Roast Beef
The traditional Sunday lunch is roast beef
Bangers and Mash
A funny name for food is bangers and mash: the sausages are bangers and mash is mashed potatoes.
Baked Beans
Eat baked beans on toast for breakfast, lunch or dinner.
Curry and Rice
Indian food is very popular in England specially curry and rice. Everybody in England likes Indian food and there are many restaurants in England.
Sandwiches and Snacks
English people love sandwiches, they have Sandwiches with tea and they like Snacks